<<... In cooperation with Kurt-Schumacher elementary school, the socio-cultural platform 'METROPOLENHAUS_Intercultural Mosaic' staged a project: supported by the craft education programme of 'Pestalozzi-Fröbel-Haus' (PFH) and under the expert guidance of craft teacher Michael Etienne, pupils of the 5th and 6th classes designed and built objects on which to sit, squat, repose or sprawl.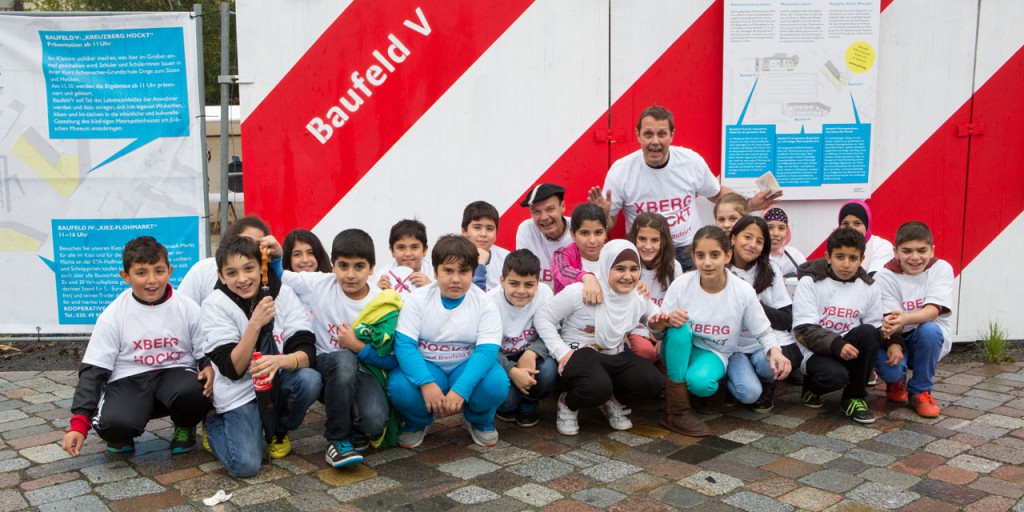 The result of the 'Kreuzberg hockt' project were 22 cheerfully-coloured seating elements, from flying carriages and stamp seats to butterfly chairs and wobbling stools.
At a festival at 'Baufeld V' on 11 October 2014, the results were presented to parents, neighbours and interested guests in the presence of the pupils. The objects found further appreciation at the exhibition 'Südliche Friedrichstadt entdecken' – Discover Südliche Friedrichstadt – which took place at the IG Metall-Haus from 13 November 2014 to 15 January 2015.
The project was financed by funds provided by the Location Development Agreement and supported by the Kooperative Südliche Friedrichstadt. Concept and Implementation: Chemaitis Donndorf Design