APARTMENT CONCEPTS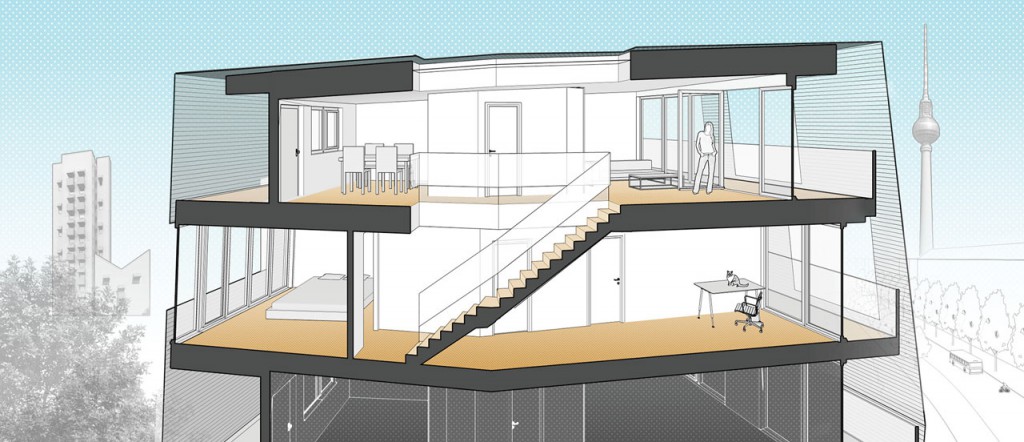 The maisonettes spread their living area across two floors: giving the feeling of a house within a house, with generous terraces or recessed balconies benefiting from great views!
MAISONETTE
Those who prefer to live on one floor will find well-thought-out spatial concepts in the flats. Living space faces the urban Museumsplatz, while the private area at the back looks out over the terraced garden towards Besselpark.
FLATS
The architecturally attractive maisonettes facing Markgrafenstrasse are distributed across floors three to six. Their terraces and/or loggias face southeast, and the top floor even has a 360° view! They follow the architecturally fascinating 'band concept' of the house.
MARKGRAFENSTRASSE
Elongated flats and maisonettes on levels two to six face southwest towards the urban Museumsplatz, featuring terraces and recessed balconies as part of a sophisticated façade concept. Private space at the back overlooks the terraced garden in the direction of Besselpark.
MUSEUMSPLATZ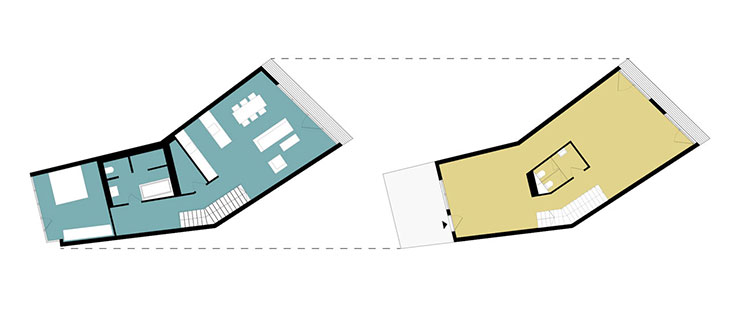 In Markgrafenstrasse, three maisonette units on the first and second floors set out to unite living and working in a clever way under one roof.
APARTMENT / OFFICE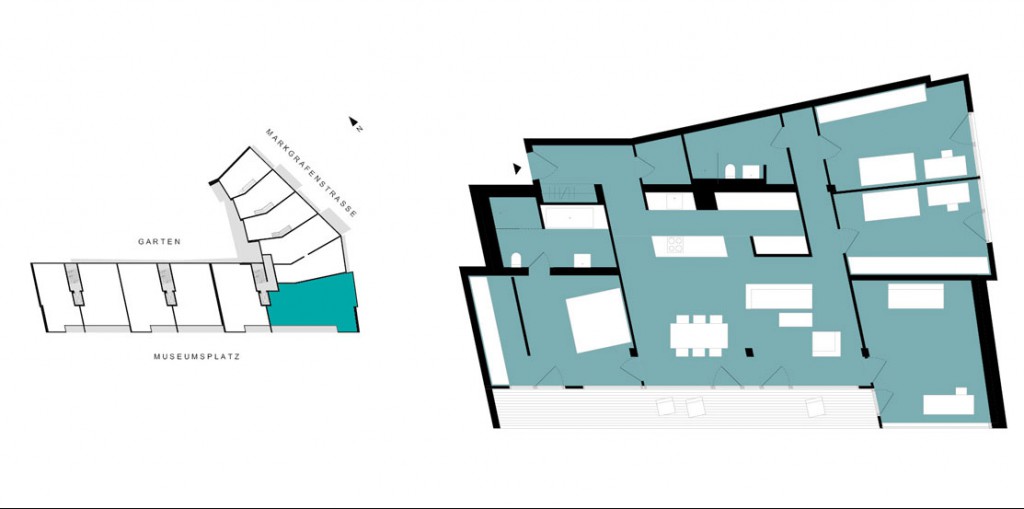 Generous and light-flooded corner apartments provide a great experience of urban space, whether in flat or maisonette style, and are connected to Museumsplatz, Linden- or Markgrafenstrasse.
SPECIAL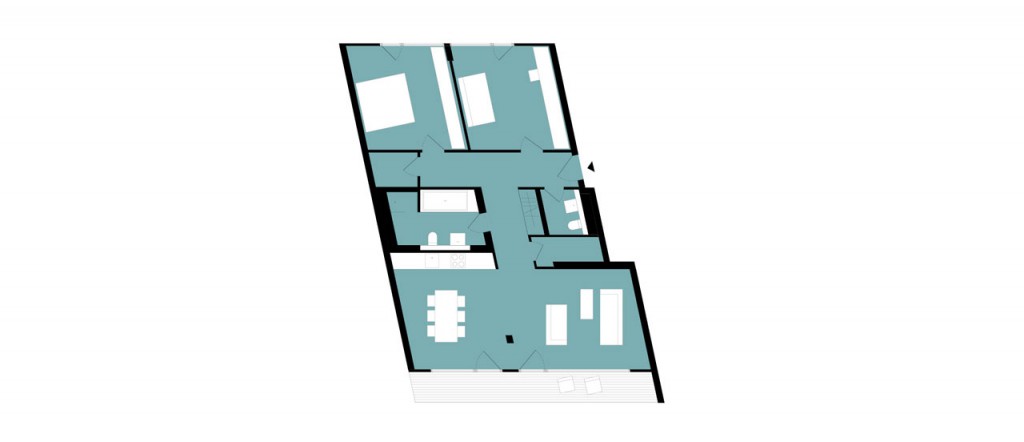 Generous two- and three-room flats, in flat or maisonette style: the light-flooded living and dining area is complemented by a terrace stretching along the six-metre façade facing southwest towards Museumsplatz.
90 – 130 M²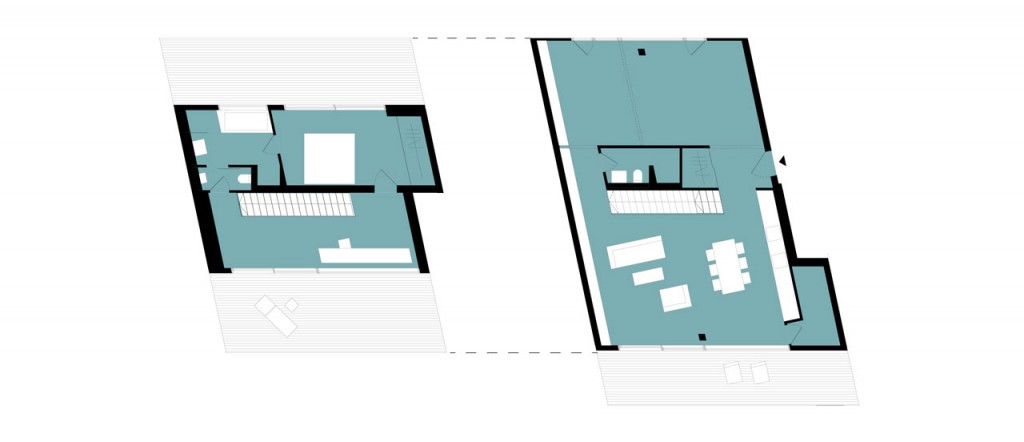 A feeling of light and space in three- to six-room flats, whether in flat or maisonette style, with functional separation of living and private space and generous terrace areas along a sophisticated façade and a garden and park landscape at the back.
130 – 180 M²
No.
Typ
Location
Floor
Rooms
Use
Size
>> W-GE 12

sold

Maisonette
Markgrafenstraße
1./2.0F
2 Rooms
Office/Apartment
120.6 sqm
>> W-GE 13

sold

Maisonette
Markgrafenstraße
1./2.0F
2 Rooms
Office/Apartment
126 sqm
>> W-GE 14

sold

Maisonette
Markgrafenstraße
1./2.0F
2 Rooms
Office/Apartment
154 sqm
>> WE 01

sold

Flat
Markgrafenstraße
2.0F
2 Rooms
Apartment
101 sqm
>> WE 02

sold

Flat
Markgrafenstraße
2.0F
2 Rooms
Apartment
103 sqm
>> WE 03

sold

Flat
Corner Museumsplatz
2.0F
4 Rooms
Apartment
139.0 sqm
>> WE 04

sold

Flat
Museumsplatz
2.0F
3 Rooms
Apartment
114.2 sqm
>> WE 05

sold

Flat
Museumsplatz
2.0F
3 Rooms
Apartment
111.9 sqm
>> WE 06

sold

Flat
Museumsplatz
2.0F
3 Rooms
Apartment
114.6 sqm
>> WE 07

sold

Flat
Museumsplatz
2.0F
3 Rooms
Apartment
111.7 sqm
>> WE 08

sold

Flat
Museumsplatz
2.0F
3 Rooms
Apartment
91.3 sqm
>> WE 09

sold

Flat
Markgrafenstraße
3.0F
2 Rooms
Apartment
112.4 sqm
>> WE 10

sold

Flat
Markgrafenstraße
3.0F
2 Rooms
Apartment
104 sqm
>> WE 11

sold

Flat
Corner Museumsplatz
3.0F
4 Rooms
Apartment
138.7 sqm
>> WE 12

sold

Flat
Museumsplatz
3.0F
3 Rooms
Apartment
111.5 sqm
>> WE 13

sold

Flat
Museumsplatz
3.0F
3 Rooms
Apartment
114.5 sqm
>> WE 14

sold

Flat
Museumsplatz
3.0F
3 Rooms
Apartment
111.7 sqm
>> WE 15

sold

Flat
Museumsplatz
3.0F
3 Rooms
Apartment
114.4 sqm
>> WE 16

sold

Flat
Museumsplatz
3.0F
3 Rooms
Apartment
88.1 sqm
>> WE 17

sold

Maisonette
Markgrafenstraße
3./4.0F
3 Rooms
Apartment
119.3 sqm
>> WE 18

sold

Maisonette
Markgrafenstraße
3./4.0F
4 Rooms
Apartment
137.3 sqm
>> WE 19

sold

Maisonette
Markgrafenstraße
3./4.0F
4 Rooms
Apartment
153 sqm
>> WE 20

sold

Flat
Markgrafenstraße
4.0F
4 Rooms
Apartment
146 sqm
>> WE 21

sold

Flat
Corner Museumsplatz
4.0F
5 Rooms
Apartment
170.0 sqm
>> WE 22

sold

Flat
Museumsplatz
4.0F
3 Rooms
Apartment
114.3 sqm
>> WE 23

sold

Flat
Museumsplatz
4.0F
3 Rooms
Apartment
111.6 sqm
>> WE 24

sold

Flat
Museumsplatz
4.0F
3 Rooms
Apartment
114.7 sqm
>> WE 25

sold

Flat
Museumsplatz
4.0F
3 Rooms
Apartment
111.7 sqm
>> WE 26

sold

Flat
Museumsplatz
4.0F
3 Rooms
Apartment
90.8 sqm
>> WE 27

sold

Maisonette
Corner Museumsplatz
5./6.0F
5 Rooms
Apartment
297.5 sqm
>> WE 28

sold

Maisonette
Museumsplatz
5./6.0F
5 Rooms
Apartment
164.6 sqm
>> WE 29

sold

Maisonette
Museumsplatz
5./6.0F
5 Rooms
Apartment
176.8 sqm
>> WE 30

sold

Maisonette
Museumsplatz
5./6.0F
5 Rooms
Apartment
169.1 sqm
>> WE 31

sold

Maisonette
Museumsplatz
5./6.0F
5 Rooms
Apartment
224.4 sqm
>> WE 32

sold

Flat
Museumsplatz
5.0F
3 Rooms
Apartment
74.7 sqm
>> WE 33

sold

Maisonette
Markgrafenstraße
5./6.0F
3 Rooms
Apartment
123.9 sqm
>> WE 34

sold

Maisonette
Markgrafenstraße
5./6.0F
3 Rooms
Apartment
135.7 sqm
>> WE 35

sold

Maisonette
Markgrafenstraße
5./6.0F
4 Rooms
Apartment
168.8 sqm
>> WE 36

sold

Maisonette
Markgrafenstraße
5./6.0F
4 Rooms
Apartment
185 sqm
>> WE 37

sold

Maisonette
Markgrafenstraße
5./6.0F
3 Rooms
Apartment
148.4 sqm